A Look At SpaceShipOne Landing At
Wright-Patterson AFB, Dayton, Ohio.

Photos and media taken
by Craig Jarratt and Monica Ice.


You can click on most photos for an enlarged view. Use BACK feature if no return present.

This article about the landing is bylined by Monica.


After reading above, here's note from the webmaster too.

The first 3 photos in our thumbnails are all on the same display page for your viewing. This may still be under construction, so check back soon!

READ all about the wonderment of this extreme achievement on the slides page.

<<< For COOL Videos of Melvill explaining his flight, etc. CLICK IT!

See 360 degree view (animated GIF) of SpaceShipOne!!! This will DISPLAY on its own special page. It is 1.7 Megs in size, please allow enough time for it to load. (5-10 minutes) Feel free to roam about the new page while it loads. Once loaded, the crisp 1/2 page 360 degree show should display rather smoothly. (Tom's version of high tech.) <g> Ulead GIF Animator was used in the design.

Investigate equivalencies in Acceleration, Velocity, or Mass.

Ohio Members on Radio & TV!
Get The Lastest Schedule!
| | |
| --- | --- |
| | Download Useful Information |
| | |
Read all about WHO have been our OHIO Astronauts!
(On NASA website)

<![if !vml]><![endif]>


Subscribe to Mars Society - Ohio Chapter

JOIN US! The subscription is a way to communicate with other members about upcoming events!




For MORE detail about events in Ohio,
go to our full Ohio Events Page. Click on the icon above.

---

If you are interested in a Mars Society Presentation, you can contact our
State Chairman, Lyle Kelly, and he can set-up a presentation date for your area.

Our chapter wins national award.

Read Tam's Letter To Our Ohio Mars Enthusiasts About Our Award !!!

----------------------------------------------------------------

<![if !vml]><![endif]>
<![if !vml]><![endif]>
ON TO MARS! Stickers! Click here!


ON TO MARS! Stickers!

<<< Download this MS Word/Avery stickers zipfile for use with your printer.
Click below for Ohio Chapter HOME page (or any biplane icon.)
Link to National Site.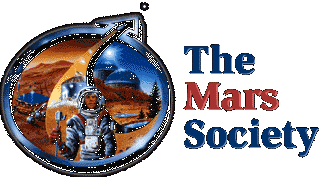 Webmaster -Tom Chatterton.
You can E-mail him at: wizardzip@aol.com
Tom Chatterton also webmasters his own site called:
Wholesome games, health news & products, plus fun.
--------------------------------------------------

If you ever have trouble with any features on this site - Click here.
This was last updated: Saturday, May 08, 2010 09:12:05 PM
(c) 2005 by Mars Society - Ohio Chapter. All rights reserved.