You must allow VBScripts if you wish to use the MS Media Player Plug-Ins on this page.
| | |
| --- | --- |
| SpaceShipOne Videos featuring Mike Mevill (pilot) At The Wright-Patterson AFB 2006 | |
| | |
Jump To:
Melvill EXITS (32 secs.)
Melvill Speaks Outside (12:29 mins.)
Shorter Version of Outside Talk (8:31 mins.)
SpaceShipOne Lands (15 secs.)
Melvill Talks in the Hanger (audio only is 3:47 mins.)

READ all about the wonderment of this extreme achievement on our website.




Photos and video taken
by Craig Jarratt and Monica Ice. Videos and audio prepared for the internet by Tom Chatterton.

Melvill exits SpaceShipOne's mothercraft onto the tarmac.
This is only 270 KB in size, and easily downloaded thru dialup.

Time: 0:32

Alternate software link to EXIT video.

See 360 degree view (animated GIF) of SpaceShipOne!!! This will DISPLAY on its own special page. It is 1.7 Megs in size, please allow enough time for it to load. (5-10 minutes) Feel free to roam about the new page while it loads. Once loaded, the crisp 1/2 page 360 degree show should display rather smoothly. (Tom's version of high tech.) <g> Ulead GIF Animator was used in the design.

A very interesting talk by Mike Melvill, the pilot, as he talks to the audience OUTSIDE before departing - about HOW MUCH SpaceShipOne weighs, and his experiences during the flight. This is a bit longer in playback (12:29 mins) than typical Internet video. Please be patient if the camera person is getting situated during recording. (I wanted you to hear the whole thing.) There is another talk INSIDE you can listen to.

Time: 12:29


Have a closer look through our slides.


Melvill's OUTSIDE talk so you can personally D/L it into your favorite player or software as MP3. File is 5.8 Megs. You can opt to play this instead, if you have trouble with the video.

Here is the VIDEO download of the outside talk, for devices such as your default software.

Melvill talks to a small group after bringing SpaceShipOne into the hanger. See special instructions for best playback in the textbox next to it and below. Please use equalization for audio.

3:47
These are slides to go with the audio.

If you wish to D/L the Hanger speech into your favorite MP3 software or player - for better equalization - use this LINK. Time: 3:47

Sorry for for the echoed quality of the audio, it was recorded in a hanger, and not at the mic...but it was the best that could be recorded under the circumstances. A better recorded speech is the one OUTSIDE, which contains similar information - on this page. You can either choose to try equalization, or just go with my boosted middle range playback, to try and bring the voice volume forward. I thought it was important enough to include it for historical purposes, etc. Perhaps you can hear it better than most. <g> You can always choose to use your own software, on the link provided. A setting of OPERA works best, in my opinion, if using MS Media Player equalization manually. You'll get different results depending on your own sound system.

SpaceShipOne under the White Knight arrives at Wright Patterson.

Time: 0:15

LANDING Video Text Link

See SHORTENED version of the outdoors speech. This one starts out with HOW MUCH SpaceShipOne weighs, and is easier to view with dialup connections. Here's ALTERNATE link, for using your own software to SHORTENED video.

8:31

Investigate equivalencies in Acceleration, Velocity, or Mass.

Click below for Ohio Chapter HOME page (or any biplane icon.)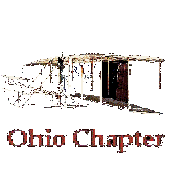 Link to National Site.
Webmaster -Tom Chatterton.
You can E-mail him at: wizardzip@aol.com
Tom Chatterton also webmasters his own site called:
Wholesome games, health news & products, plus fun.
--------------------------------------------------


If you ever have trouble with any features on this site - Click here.
This was last updated: Thursday, March 08, 2007 11:19:13 AM
(c) 2005 Mars Society Ohio Chapter.